Quad Bike Desert Safari Dubai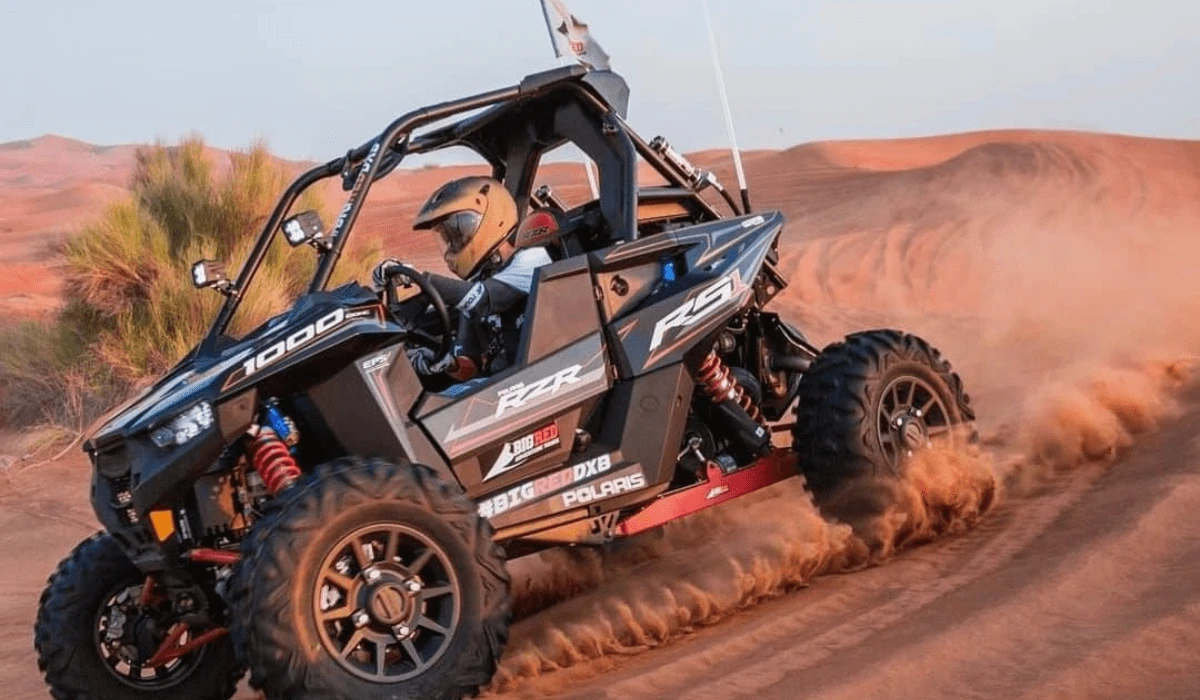 The Dubai desert safari with a quad bike ride is an absolute thrill in Dubai's deserts. Quad Bikes are motorcycles with four large tires that are ridden astride, much like a dirt bike. They are also referred to as ATVs, which stand for 'all-terrain vehicle.' These four-wheeled vehicles are specifically designed for off-road driving experiences and will provide a fantastic adrenaline rush in desert safari. Off-road, the pressure in their tires is reduced for better traction. Before your group gets on their desert bikes for the adventure, everyone gets a helmet. Quad Bike Desert Safari Dubai is an exciting experience that will give you an adrenaline rush as you race through the dunes. Quad Bike Desert Safari Dubai is popular among adventurous couples, families, and groups of friends.
Besides desert biking, these safaris also include dune bashing, sand boarding, camel riding, and other activities. This article will tell you everything you need to know before booking a Quad Bike Desert Safari Dubai.
Quad bike Desert Safari-Brief information
Quad bikes are four-wheeled all-terrain vehicles that are typically powered by a small motor engine. They have handlebars like on a bicycle, with brake and throttle controls attached. You must wear protective equipment during this activity, including a full-face, off-road helmet that resembles a motorcycle helmet. Quads are typically driven on off-road tracks.
Quad Bike Desert Safari Dubai allows you to practice your balance and coordination while driving around the track. It teaches you to look around for other people while also looking where you're going to ensure you get around the corners. Driving your car gives you independence and the ability to make your own decisions while on the road. It also informs you of the importance of driving safely around the track, ensuring that you move in a controlled manner around the corners, and giving your friends enough space to drive safely and confidently.
How to Book a Quad Bike Desert Safari in Dubai?
Quad biking in the desert safari is an off-road activity that promises to take your mind off stress and refresh your mind in a thrilling, exhilarating adventure. Our company provides the best quad bikes desert safaris in Dubai. For customers who want to explore every nook and corner of the vast land, we offer equally exciting and affordable tour packages. We're here to take you on an adventure in the harsh and desolate desert that will leave you with memories to last a lifetime.
Experience the dizzying thrill of a dune-bashing ride across the desert on your quad bike, exploring the desert's wilderness. We have a team of instructors who will walk you through the process. In the event of an emergency, our dedicated team will be at your disposal.
Tips for Riding
To avoid scrapes, make sure you have the proper gear, such as a good helmet, goggles, gloves, long pants, over-the-ankle boots, and closed-toe shoes.
Pay attention to your surroundings and plan your route.
Avoid riding in soft sand and stay on designated trails.
Keep an eye out for obstacles like rocks and bushes.
Maintain a close eye on the weather and avoid riding in extreme heat or cold.
Keep plenty of water and food on hand.
Always ride with a friend or group when riding an ATV. This will keep you safe while also making it more enjoyable.
Ride an ATV only during the day, because nighttime navigation can be difficult and dangerous.
Do not operate an ATV while intoxicated or under any sedative medication.
INCLUSIONS
Pick-up services from your hotel
Yamaha 350 CC - 30 Minutes Biking
1 Seat Quad Biking
Dune Bashing in a 4x4 vehicle
Photography of sunset
20 minutes on a Quad bike. It can be increased but will have extra charges
Camel riding on the demand
Yummy BBQ (Vegetarian and Non-vegetarian)
Fire shows
Multiple Refreshments
Entertainment shows
Separate washroom facilities
Drop off facility
IMPORTANT TO KNOW
The team will coordinate if the locations are far from the SIC pick-up points
Pregnant women and guests with backache are not recommended for this tour
The minimum age limit for quad biking is 16 years
You should have a basic knowledge of driving
BOOKING POLICY
Complete charges will be applicable if the cancellation is made within 24 hours of your tour departure time
Refunds will be clear within 7 business days (If eligible for a refund)