Dhow Cruise Dubai Marina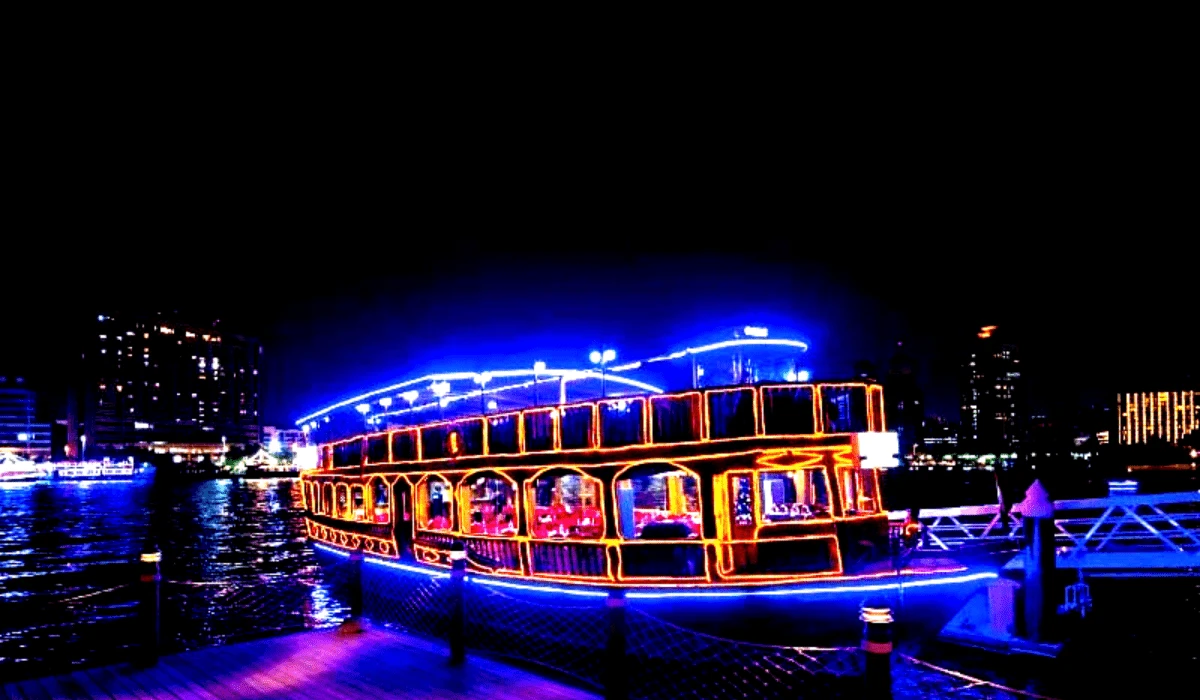 If you visit Dubai without taking the Dhow Cruise Dubai Marina so, you are missing out on the city's main attraction. These wooden Dhows are beautifully lighted and decorated Arabian boats that sail slowly through the Dubai waters, where you can enjoy a variety of activities. Anyone visiting Dubai should take a Dhow Cruise Dubai Marina in the evening. Along with the variety of food, after the sun sets, you get a breathtaking view of the city's skyline.
Dinner cruise buffets are one of the most memorable parts of a dhow cruise Dubai marina. Dhow cruise dinner at Marina Cruise Dubai is well-known for its high-quality food and efficient service at the most affordable Dhow cruise Dubai prices, serving delectable dishes and refreshing drinks. So, the best culinary services are provided by these traditional wooden and glass dhow cruises.
Dhow Cruise Dubai Marina offers:
Stunning Views
Because the Dhow Cruise Dubai Marina offers a vibrant and spectacular skyline view that you will never forget. So, pass by Dubai's tallest illuminated building, which will take your breath away.
Lavish Experience
Dhow Cruise provides customers with a royal experience they will remember for the rest of their lives. The cruise is intend for valuable customers who are willing to spend money on a luxurious experience. The overall ambiance, royal stature, high-quality service, décor, exotic delicacies, and other entertainment aspects are all combined.
Fantastic Food and Entertainment
Dhow cruises Dubai Marina offers an once-in-a-lifetime luxurious experience to deserving tourists from all over the world. Dhow cruises provide a welcome break from people's monotonous routines. It leaves an indelible imprint on the consumers' minds.
What to expect on the Dhow Cruise Dubai Marina?
Dubai Marina is a man-made body of water built along a three-kilometer stretch of the Persian Gulf coast. It is one of the world's most impressive waterfront developments, surrounded by skyscrapers, shopping malls, and hotels. This cruise will take you on a magical journey through Dubai Marina's calm waters. Some of the city's most beautiful landmarks are beautifully illuminate in the evening lights. The upper and lower decks of these dhows are so colorfully decorate in traditional Emirati style.
They are air-conditioned, have all of the latest amenities, and have soothing music playing in the background. You can dine on a lavish buffet while watching entertaining cultural performances like the Tanura dance show.
An Unforgettable Experience
Dhow Cruise provides a captivating view of the Marina landmarks, exceptional hospitality, a delectable dinner spread, and enthralling entertainment. So, there is never a dull moment on the cruise's leisurely sailing.
The first thing that strikes you is the beauty of the Dubai Marina at night. As you travel around the 3600, you will notice landmarks like the Dubai Marina Mall, the surreal 1800 arching Cayan Towers, furthermore the Blue Water Development, and the massive Ain Dubai. So, these landmarks, which are beautifully illuminate at night, would make an excellent backdrop for a fantastic selfie. The delectable buffet barbeque dinner includes vegetarian and non-vegetarian options. It all starts with welcome drinks like juice, tea, coffee, and dates.
INCLUSIONS
Both Cruise and Dinner will be included
90 minuites cruise in Dubai Marina, Yacht club and Marina Towers
4 star buffet dinner (Vegetarian, Non vegetarian
Soft drinks, Tea and Coffee will be provided
Transfers as per your selection
IMPORTANT INFORMATION
Shared transfers will only be provided from centrally located hotels
There may be some variations in transfer timing due the traffic issues
Entertaintment will be close during Ramazan and alchohol will not be served according to UAE government
BOOKING POLICY
Cancellation within 24 hours of tour departure time, there will be full charges
Payment refunds will be done in 7 business days
Entry will be free for children under 2 years of age
Adult rates will be applicable for children above 10 years