Ocean Empress Dinner Dhow cruise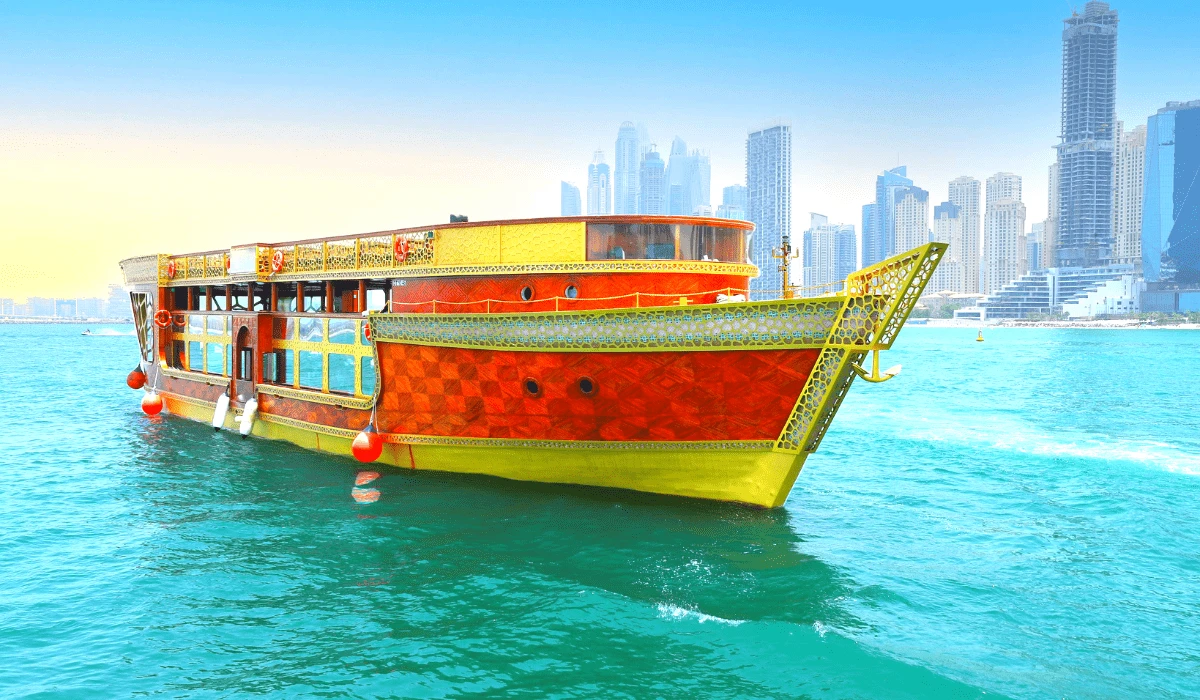 Ocean empress dinner cruise is a perfect boat for friends and family. you can schedule an ideal boat tour with it. You can go to those places that are within the reach of the water. It is not a big deal to access water-covered areas. It is more appropriate and comfortable. If you want a luxurious tour then this is the best option for you.
Ocean empress is one of the most luxurious boats in the world. You can enjoy live cooking and much more. The presence of dancers and performers makes everyone entertained. The world's grand and most lavish cruise can hold five hundred people at the same instance. The estimated covering area is about 16000 square meters.
Ocean empress dinner dhow cruise enables you to dine on the world's grand cruise. You can enjoy mouth-watering dishes with loved ones. You can enjoy a glorious view of the beach of Dubai. Furthermore, visitors can experience Bluewaters Island, Dubai Marina, JBR, and Palm Lagoon closely.
Why you choose ocean empress dhow cruise
It is a grand and luxurious boat in Dubai. You can travel through this.
Moreover, It is a great cruising trip with delicious dishes.
It's a great opportunity to have a view of the Dubai skyline.
In addition, it allows you to enjoy an international buffet dinner.
This luxurious cruise will become more enjoyable with entertainment shows.
Features of ocean empress dinner show cruise
It has a massive space of 4 decks. It almost covers a 16000 square meter area. Up to 500 people can easily seat due to its large area.
It seems like a drifting hotel.
Moreover, It will bring you back to the days of ancient pelagian arab. s
Furthermore, some time would be spent in the appreciation of interior décor.
Undoubtfully, it is one of the majestic dhow cruises and a traditional boat of UAE. In addition, it is the pivot of luxury.
Moreover, Every possible facility will be provided to make this cruise comfortable.
Get ready for a luxury dhow cruise dinner
It is one of the largest Megayachts in the UAE. What you will get with this tour? A premium international buffet menu, live cooking, and robot menu. A lot of entertaining channels. Furthermore, you will see traditional performances. If you love to drink then this is an ideal place for you. You will be served different soft drinks. Dubai is always a famous city for its uniqueness. Consequently, Dubai has been introducing different ocean entertainment.
It includes an ocean empress cruise which enables you to enjoy heart-touching moments. This place provides you with an awesome experience. You can spend this cruise journey with loved ones. It is the best time to capture memorable moments of a cruise tour. Moreover, it will be an unforgettable dinner and journey for you.
It will prove the largest gathering of your life. A peaceful environment and eye-catching decorations win your heart. The most interesting thing is you will meet with the robot chef. These chefs will prepare food for tourists. Furthermore, they will cook food without human touch. This is another interesting aspect of an ocean cruise. Consequently, you can be enjoyed Asian cuisine.
Final words
Dubai is the capital of the UAE. It is a popular city due to its beauty. Ocean empress dinner cruise is one of the entertaining tours. Here, people not only enjoy dinner but also other entertainments. Moreover is it a grand and luxurious tour for those who love ancient Arabian traditions. Visitors can enjoy Asian foods and entertaining robot chefs. Furthermore, if you want a fantastic cruise tour then you should choose the ocean empress cruise.
INCLUSIONS
A 42000 Litr Pool will be provided
6 Jacuzzis will be included
There will be restrooms and one kitchen
Lounge, Front End Sun Deck
BOOKING POLICY
Cancellation within 24 hours of tour departure time, there will be full charges
Payment refunds will be done in 7 business days
Entry will be free for children under 2 years of age
Adult rates will be applicable for children above 10 years