Dune buggy rental dubai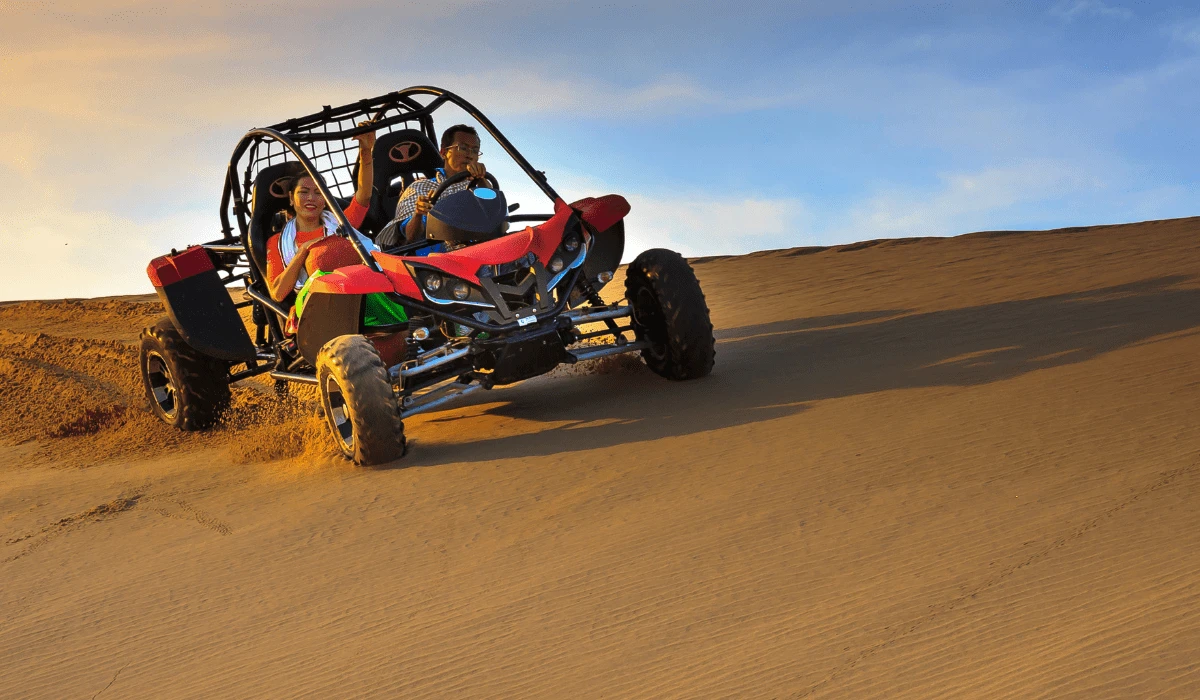 We are here to provide you with the most memorable and exciting dune buggy rental Dubai to make your journey exciting. It is truly made for you if you are an explorer or an adventurer who enjoys exploring horizons for pure fun. Dune buggy rental in Dubai is the most popular outdoor activity among both tourists and locals. Even if this is a new experience for you, we will make it a once-in-a-lifetime experience you will never forget.
Our dune buggy rental Dubai team is always available to help and ensure you have a good time. Our high-performance dune buggies are fully equipped and waiting for you to drive. So, let the game of thrills begin, embark on an adventure with us and enjoy the dune buggy tour in Dubai at a low cost.
Dune Buggy Rental Dubai Overview
There are numerous ways to experience the Dubai desert, but riding in a dune buggy is one of the most enjoyable and memorable. These tours can be taken either alone or in groups and they typically last three to six hours.
Rental of Dune Buggy Dubai tours are truly one-of-a-kind experiences. Tourists are often able to participate in the same activity as locals. Because the number of tourists on these tours is limited, you must select the best one for you. Before you go, make sure you've done your research on desert safety. You should protect yourself from the sun by wearing sunglasses and drinking plenty of water. Our company offers you every comfort.
Dune buggy rental Dubai is a great place to get close to nature and see the city from a different angle. A buggy tour is an excellent way to have an unforgettable experience. You'll get a close-up look at desert animals like gazelles and camels as well as their enchanting habitat.
The weather in Dubai is hot most of the year, but rains are uncommon. If you plan to go sightseeing in the desert, you can still enjoy your Desert Buggy Tours in Dubai in wetter weather. You'll be driving off-road four-wheeled vehicles in the desert, and everything is completely private and safe.
How to Get the Best Dune Buggy Rental in Dubai?
Are you looking for the best Dune Buggy Rental in Dubai for some fun? You don't have to be concerned because getting to our location is very simple. You can make a reservation with us via our website, phone, or WhatsApp.
We offer a variety of desert dune buggy tours that will have you and your friends scaling the Arabian Desert and taking in some breathtaking scenery. Prepare for buggy tours that will be unforgettable as you strap yourself into our high-performance dune buggies. All of our dune buggies are available for hourly rental at the best price. Our tour guides are professional instructors who will teach you the fundamentals and help you in navigating the desert terrain on buggies.
Why Should You Ride With Us?
The Dune Buggy Rental Dubai is a fantastic experience that allows you to explore the Dubai Desert. Get a thrill from a one-of-a-kind and unforgettable experience in the warm desert terrains. Buggy tour Dubai Experience allows you to zoom across Dubai's golden dunes.
A dune buggy rental Dubai tour is the best way to explore the Dubai Desert Safari. Dubai has many beautiful and heartwarming tourist attractions and it is a well-known place to take a desert dune buggy ride in Dubai. The most charming aspect of driving a dune buggy in the Dubai desert is that you will be able to see everything available to see during your adventure tour
As the most preferred buggy Dubai tour provider, we make certain that we deploy smart buggies along with the best protective and safety devices and gear. It is also certain that we will provide tourists with safety equipment.
We make sure tours are properly organized so that our clients have a better experience on our extreme dune buggy in Dubai. We handle everything, from picking them up from their hotels to guiding them through the safety briefing and adventure into the dunes.
We have trained and experienced buggy Dubai guides who will make your ride enjoyable. We offer extreme tours that you will undoubtedly enjoy. Our guides are well-trained and experienced, as well as knowledgeable in the terrain.
INCLUSIONS
Polaris 1000 CC - 30 Minutes Biking
We have advanced and well maintain dune buggies
Session of sandboarding
Protective equipment like helmets and googles
Multiple refreshments
Soft drinks/Snacks
Transfers (If selected)


IMPORTANT TO KNOW
Available on a private transfer
Please carry your id or passport for identity verification
Pick-up will be from centrally located hotels and residencies
Pregnant women and the guest with backaches are not recommended for this activity
No refunds for partially utilized services
Heavy luggage is not allowed to carry with you
BOOKING POLICY
Complete charges will be applicable, if the cancellation is made within 24 hours of your departure time
Refunds will be clear within 7 business days (If eligible for a refund)
Adult rates will be applicable for children 6 years