Lotus Mega Yacht Dinner Cruise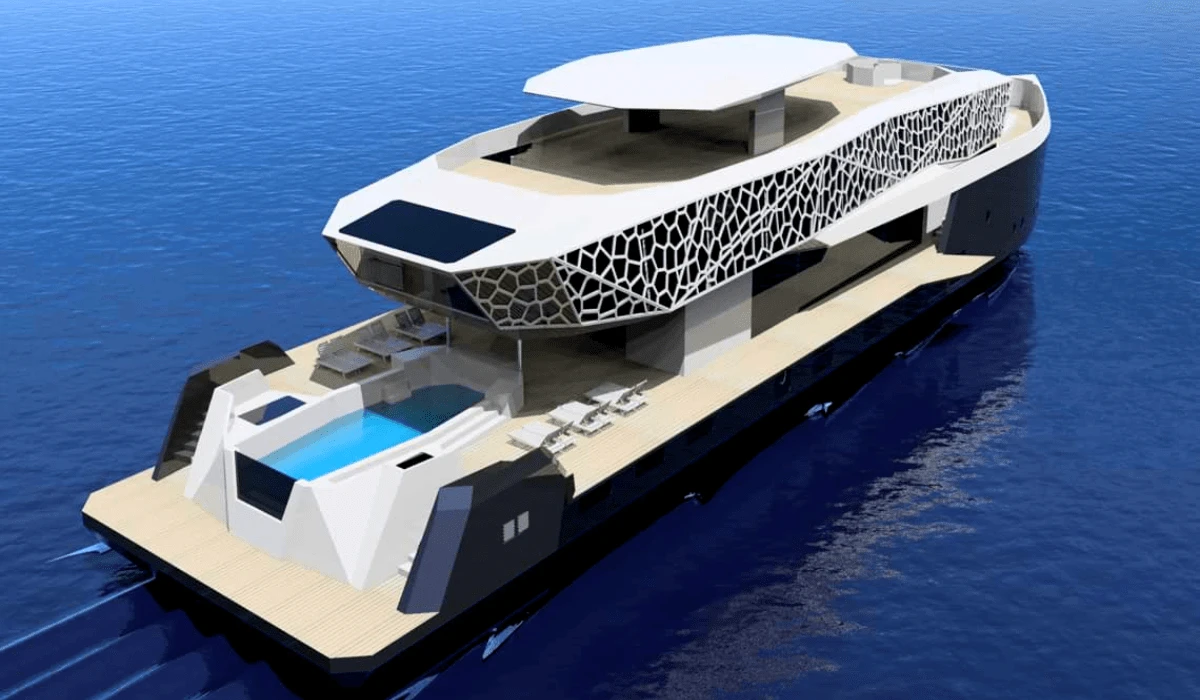 Explore the vibrant waters of Dubai aboard the luxurious Lotus Mega Yacht! This promises highly valued celebrity-like moments as you dance to a live DJ, relax by the pool, enjoy complimentary refreshments, and, of course, savor a variety of freshly prepared dishes served from a live cooking station. Nothing beats a Lotus Mega Yacht cruise through the lavish Dubai Marina.
You will be greeted by a cheerful and energetic crew the moment you step aboard this elegant yacht with spacious decks and cool contemporary décor. Enjoy views of the stunning Dubai sights as the yacht departs from Pier 7 (near Dubai Marina Mall). This allows you to photograph iconic Dubai landmarks such as the Burj Al Arab, Atlantis, The Palm Resort, JBR, and Ain Dubai at Bluewaters Island.
This 220-foot mega yacht has 11 bedrooms, a nightclub with seating for 200 people, a 400 square foot cinema screen, a 500 square foot (temperature controlled) swimming pool, a private Jacuzzi, a hydraulic canopy deck, and multiple salons. Canapés/entrees, BBQ specialties, mixed seafood, sautéed seasonal vegetables, and desserts - primarily assorted pastries, fresh-cut fruits, and Umm Ali - will be available.
What makes the Lotus Mega Yacht unique?
The Lotus Mega yacht stands out among the many yachts available for a cruise in Dubai. It is the country's most luxurious and spacious yacht, not just in Dubai. It's a 220-foot floating mansion in the middle of the sea.
There are only a few mega yachts in the world. They were only about 200 in number. Lotus is one of the showier of these. The Lotus is roughly one-third the length of the world's largest yacht, Azzam, which is 590 feet long and powered by four massive diesel engines.
Specifications
A variety of entertainment options and activities

Stunning views of the Dubai coastline with an enticing onboard dinner

A variety of Premium Drinks available through an Open Bar or an Ala Carte package

500-person capacity with complete safety and comfort features

A diverse international food menu that includes Live Barbeque, canapes, salads, and desserts.
Incredible facilities
The Lotus Mega yacht has everything you and your guests will need to keep them entertained during the trip. The boat is a mini-amusement park with a variety of fun and leisure activities. The yacht has five spacious decks and is the size of a three-story building. Each of these decks offers a unique set of attractions. On the middle deck is a massive 500 sq ft 46,000-litre swimming pool with a waterfall and jets. This is an excellent location for sunbathing and relaxing. Six hot tubs with massage water jets are also available. The pool is suitable for both adults and children.
There is also an air-conditioned lounge on the middle deck for dining and relaxing. If you prefer to spend your time indoors, this is the place to be. The sun deck includes a large open-air lounge with seating for up to 200 people. A well-designed shade roof provides shade when the sun is too hot in this area. This area is ideal for large buffets. The modern widescreen cinema hall, which seats 70 people, also has a special category for adults. This is an excellent addition to the lower deck, particularly for children. To suit the occasion, the lighting on the walls can change. The luxurious interior and ambiance are enhanced by a sophisticated sound system. The hosts on this boat are outstanding; they are well-dressed and well-trained. They make certain that all guests are treated with dignity.
INCLUSIONS
Cruise to Blue Water, Palm island, Marina and Atlantis
Food and bevarages
Multiple Entertainment Deck
Swimming Pool
BOOKING POLICY
Cancellation within 24 hours of tour departure time, there will be full charges
Payment refunds will be done in 7 business days
Entry will be free for children under 2 years of age
Adult rates will be applicable for children above 10 years