Lotus Mega Yacht Dinner Cruise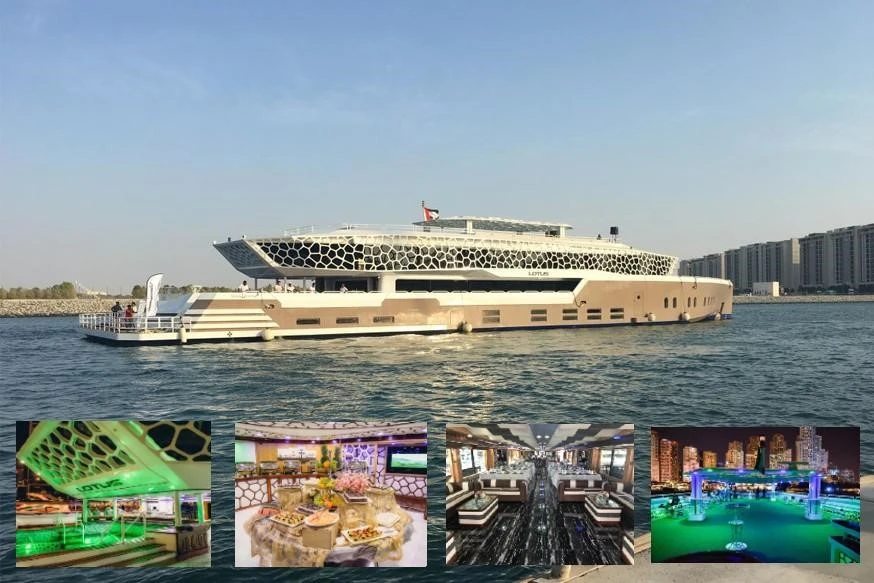 No limits apply to the Lotus Mega Yacht Dinner Cruise. It is a magnificent yacht that dives into the sparkling ocean and provides you with the most amazing moments. It enables you to take in the most magnificent sunset over Dubai's waterways and skyline. You can enjoy in any spot of the Lotus Mega Yacht and enjoy while having your drinks thanks to the several special areas it is equipped with, including the yacht front, poolside, eating area, and top deck.
As soon as you enter this vessel, the lavish environment surrounds you. You can view and photograph Dubai's most famous landmarks, such as Burj Al-Arab, The Palm Resort, JBR, and Blue Waters, from this Lotus Mega Yacht. You'll be able to enjoy a selection of freshly made foods that are served from a live cooking facility that you'll remember for your lifetime.
It's the ideal place to relax alone, and with family and friends. Therefore, reserve your spot at Lotus Mega Yacht as soon as possible to enjoy yourself.
Our Offerings
3 hours onto Lotus Mega Yacht

Welcoming drinks and refreshments

On-board food and soft drinks

The yummiest BBQ meal

Live cooking station featuring both International and Traditional menus including Salad, Canapes and Deserts

Entertainment such as music and live performances

A temperature-controlled Swimming Pool, Jacuzzi and a Night Club
Pricing Options
It might be challenging to decide what to have given your budget, which is understandable. You have simply three options to choose from here.
Lotus Mega Yacht – Food (

$65

)

● A delightful dinner

● Live entertainment

● Live music

Lotus Mega Yacht – Food and Drinks ($97)

● Yummiest dinner

● Unlimited drinks

● Live entertainment

● Live music

Lotus Mega Yacht – VIP Package ($162)

● A lavish and delectable dinner

● A deluxe private area

● High-end premium drinks including champagne

● Live entertainment decks

● Live music

For Women

● Women who purchased a ticket for food alone are still entitled to complimentary unlimited drinks aboard the yacht.

Time Frames and Locations

● Boarding begins at 7 p.m.

● The Yacht sets sail at 7:30 p.m.

● Coming back at 10 p.m.

● Departing and Arriving back from Pier 7, Dubai Marina

Ticket and Booking Policy

● It is advisable to purchase your tickets in advance to ensure that you have the booking on your preferred day.

● If the place of departure shifts, our team will reach out to you beforehand to let you know.

Children Policy

● Toddlers and young children (0-3) are admitted free of charge.

● Children under the ages of 3 to 10 are charged the adult rate.

● Children under the age of 18 are not allowed aboard yachts on Fridays.

Cancellation Policy

● You must cancel your booking within 72 hours before the scheduled start time to receive a full refund.

● I f a trip is cancelled within 24 hours notice a 10% fee will be refunded.

● No refunds are given for no-shows and delayed cancellations.

Wrap Up

It is a unique holiday choice for everyone choosing to unwind for a while from their hectic lives. You may still have a good time at Lotus Mega Yacht Dinner Cruise while maintaining your social distance thanks to its large capacity of up to 500 people. Additionally, as you'll be visiting some of Dubai's most notable attractions, this is your chance to take photos of them to save the memory.

So what are you still holding out for? Book your space right away!