Desert Rose Yacht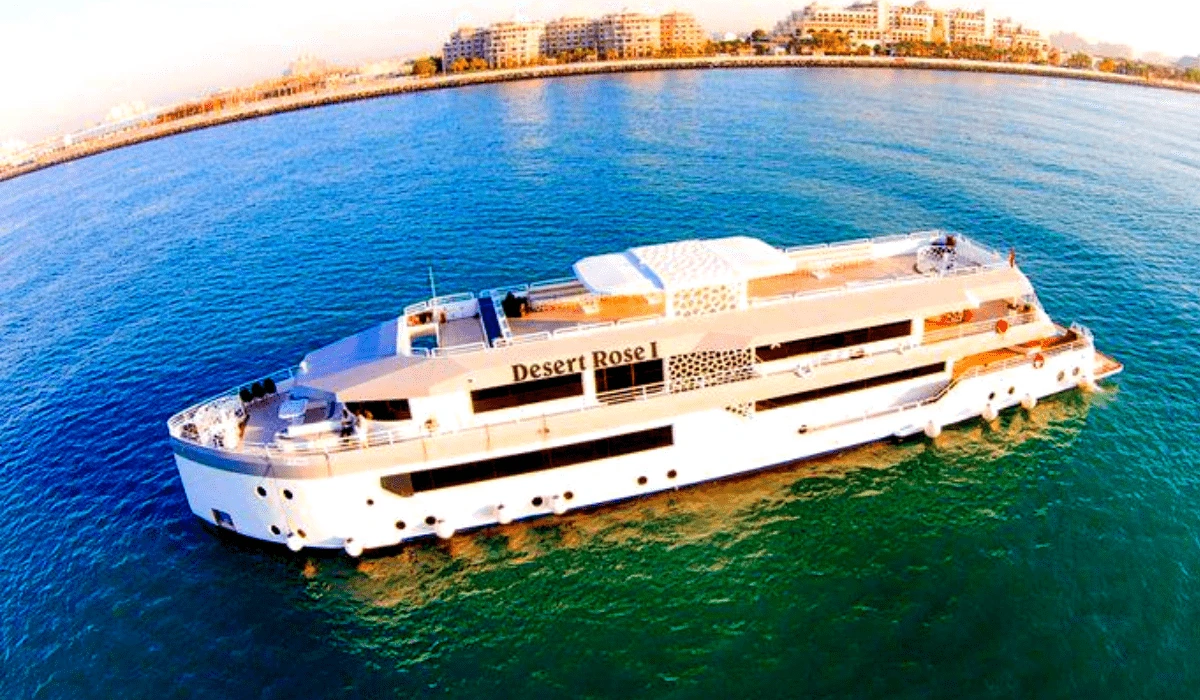 Desert Rose yacht, which can accommodate more than 200 guests, has unrivaled space as well as the finest luxuries and comfort. This sailing heaven's VIP interior and top-notch décor are ideal for creating the ambiance of a fantastic event. The spacious sitting area, large lounge, and sundeck have everything you need to make an impression on your guests.
Desert Rose yacht is a five-star hotel that moves across the surface of the water, changing its view locations spectacularly, and will impress seafarers and luxury seekers. The 155-foot Desert Rose yacht is ideal for royal family gatherings, weddings, corporate yacht events, and grand parties. Desert Rose Yacht Dubai is a stunning mega-yacht with three deck levels. Furthermore, the delectable interior enhances the marine experience with a Dubai yacht trip.
Interior of the Desert Rose yacht
Desert Rose Yacht is a luxury yacht with lavishly design custom-built interiors. When she was launched in 2016, she was the largest charter yacht ever sailed in the UAE. This venture was created to provide as much sailing space as possible for large gatherings or events. The main deck of the Desert Rose Yacht has six VIP bedrooms and the lower deck has eight bedrooms. In addition, Desert Rose Yacht offers its guests a spacious saloon, dining room, kitchen, dry pantry, and laundry to meet their every need.
Desert Rose Yacht features a dance floor with a cutting-edge sound system, as well as a professional audio system with two home theatres throughout the boat. A total of 20 screens cover the entire boat. Her intelligent automated yacht management system is designed to provide the best possible performance. It has always been known as the region's first and largest party boat, and her spaces speak for themselves. The swimming pool and the rest of the cabins are located on the lower deck of the Desert Rose. The interior of the middle deck is large and customize to meet the needs of dining, dancing, conferences, and corporate events. Furthermore, venue is ideal for large corporate events, team building, upscale parties, and grand parties.
Top events to host on the Desert Rose yacht
Wedding – The bride and groom can easily accommodate their guests at their wedding.
Corporate events - Ideal for hosting office parties
Yacht party – A bachelor or bachelorette party on a yacht sounds like a good time.
Anniversary festivities - Enhance the value of your special day.
Product launch - An innovative method of introducing your product to the market
New Year party – The most exciting New Year's Eve celebration
Festivals - Host your Christmas party on a Desert Rose yacht.
Birthday parties - Throw a birthday party for your friends and family.
Because, these are just a few of the different types of occasions and events you can host on this yacht. So, there are no restrictions on the types of events that can celebrate.
Book the Yacht for your events
This 155-foot luxurious and spacious yacht provides a truly unforgettable experience. It provides the comfort of a villa, the amenities of a hotel, and entertainment unlike any other, all while overlooking the Arabian Sea. You can book a cruise for your entire family for some family fun. It can also reserve it for corporate or personal events.
In addition, consider a resort where you can relax and enjoy yourself with friends and family, a restaurant where you can order whatever cuisine you want a hotel with attentive and knowledgeable staff or a luxury villa where you can spend some quality time alone! In terms of space and modernity, the stunning Yacht provides both.
So, this is one of the most impressive super yachts in the beautiful Arabian Sea. The stunning yacht, rich in style and luxury, is the result of exceptional engineering and vision, where two hundred guests can easily collect unforgettable memories.
INCLUSIONS
There will be live cooking stations
Multiple Entertainments will be provided
Theme Decoration
Lounge, Front End Sopn Deck
BOOKING POLICY
Cancellation within 24 hours of tour departure time, there will be full charges
Payment refunds will be done in 7 business days
Entry will be free for children under 2 years of age
Adult rates will be applicable for children above 10 years