Dubai Desert Safari Camel Ride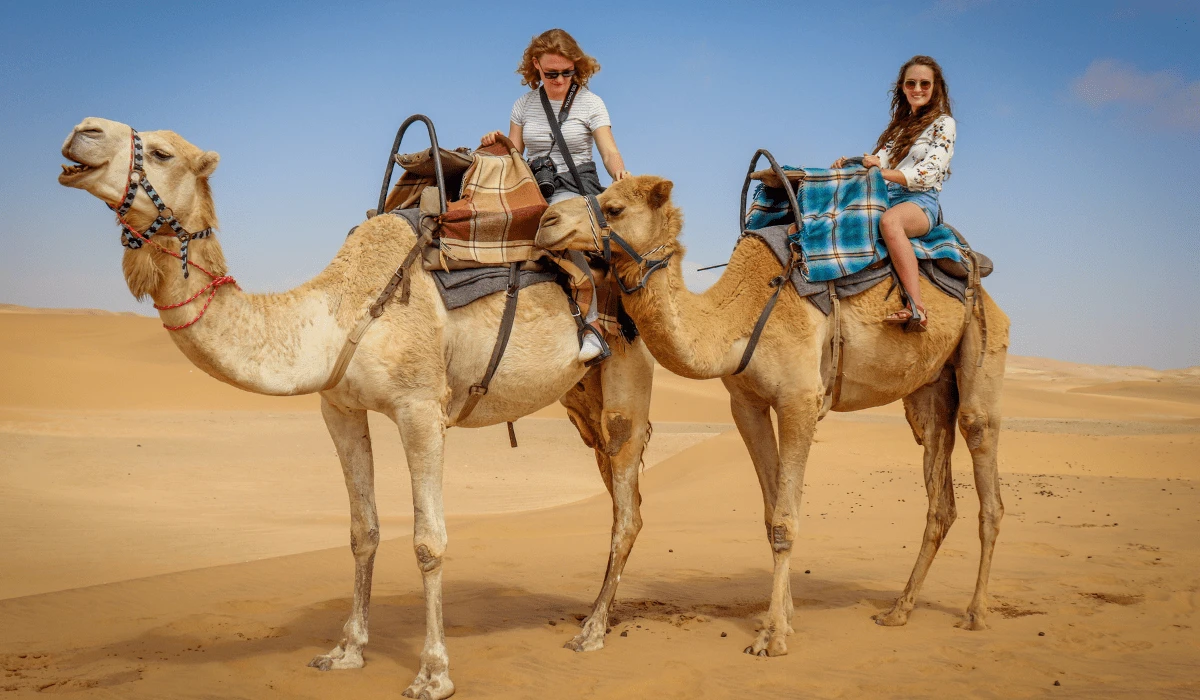 Dubai is widely recognized as an urban environment. But taking a camel ride in Dubai completely changes that perception. The city gives way to a breathtaking landscape as you drive into the desert - a shockingly different change of scenery! Get ready for an unforgettable desert adventure on the most famous Dubai desert safari camel ride.
Camels are known to be able to travel far distances for a long time without food and water, making these wonderful creatures an indelible part of the Arabic tradition. This also made them a necessary mode of transportation back then. Participating in the Dubai desert safari camel ride is one of the best ways to experience the Arabic tradition. This unforgettable experience, which is usually included in a Dubai desert safari, transports you back in time as you ride the ship of the desert and see how the Bedouin people used to travel.
A traditional Dubai desert safari camel ride
The most traditional way to explore the Dubai desert is on a Camel Desert Safari. A typical Dubai desert safari camel ride begins with a 4x4 vehicle picking you up from your hotel. You then drive into the desert to begin your desert safari, where you can experience the adrenaline rush that dune bashing provides.
When you arrive at the venue, your knowledgeable guides will teach you the ins and outs of camel riding. They will also make certain that your ride is smooth and worry-free. There is nothing to fear, as camels are calm animals. All you have to do is sit back and take in the scenery.
Following the activities, you can return to the camp and see how traditional Bedouins entertained themselves by smoking hookah and applying henna. You can also enjoy a traditional Arabic feast with vegetarian and non-vegetarian options while watching a tanoura dance and belly dance.
Why You Should Try a Dubai desert safari camel ride?
A trip to Dubai would be incomplete without a Dubai desert safari camel ride. experience. While a desert safari provides the thrill of riding in a 4x4 vehicle, a camel ride provides an entirely different exhilarating experience. This activity will astound you like nothing else. Take a camel ride through the windswept desert and take in the scenery.
Camel riding isn't just for adults; even children can ride these magnificent beasts and find it fascinating to be so high off the ground! While most people believe that deserts are completely barren, you may be able to spot rare wildlife such as Arabian oryxes and gazelle species.
You can experience how the Bedouin traveled across the desert in ancient times and afterward, indulge in traditional activities like henna painting, hookah, traditional falconry, and belly dancing. There will be also tradational dinner. Prepare to embark on a gastronomic journey with both vegetarian and non-vegetarian options.
Tips for camel riding
When going on a camel safari in Dubai, wear casual, light, and comfortable clothing.
Eat your lunch early because the desert safari, especially the camel ride, involves a lot of sudden movements.
You should wear a jacket.
Pay close attention to your instructor while participating in the activities. Most importantly, be gentle with the camels during your safari.
INCLUSIONS
Pick up and pick off service included
45 minutes camel ride
4-course dinner with juice and water
Live bread and coffee making
Falconry, Henna
Emirati entertainment
IMPORTANT TO KNOW
Pregnant women and guests with backache are not recommended for this tour
No refunds for partially used services
No wheelchair will be accessible
Children below 5 years cannot enjoy this activity
Two guests per camel


BOOKING POLICY
Complete charges will be applicable if cancelation made within 24 hours of your departure time
Refunds will be clear within 7 business days