Overnight Desert safari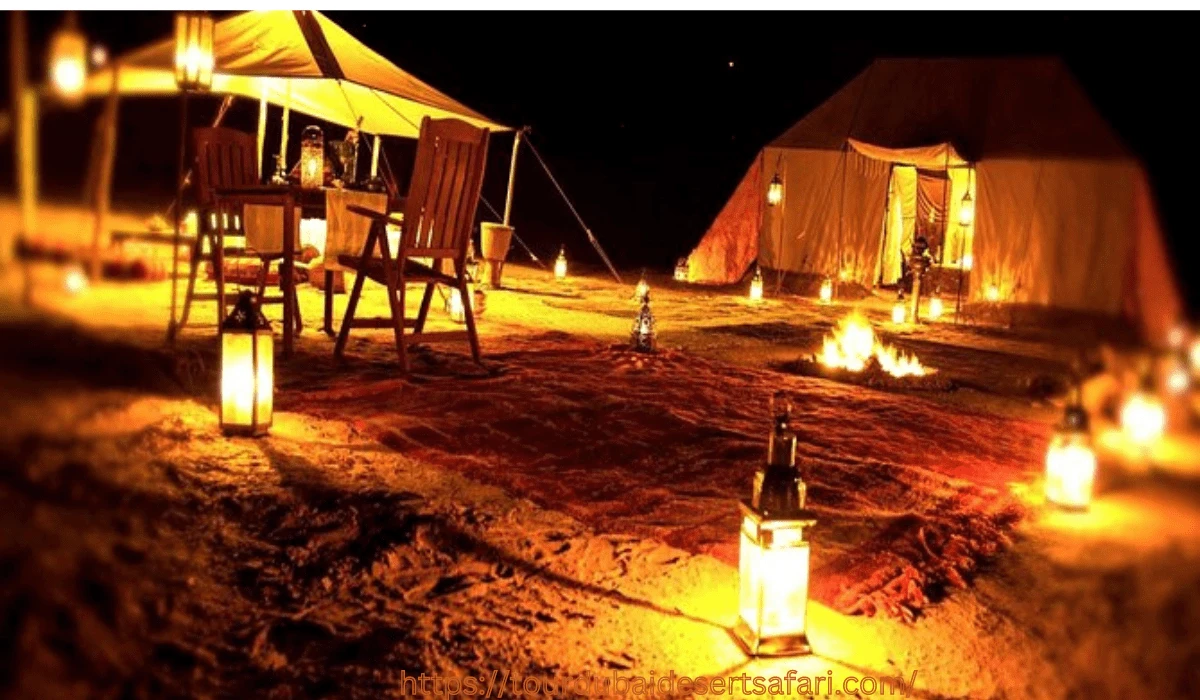 The Overnight Desert Safari could be the best tour of your life. It has all of the elements of a fantastic vacation such as excitement, enjoyment, thrill, uniqueness, and much more. This trip will be life-changing and when you return from it, you will discover a completely new side of yourself.
Nothing beats sleeping on a sand bed under a blanket of stars. One can have some of the best outdoor activities of his life and when he returns, he will have lifelong memories.
For those who want to appreciate the city's natural beauty, Dubai's overnight desert safaris are the ideal way to experience the arabesque beauty of the desert landscape.
Overnight Desert Safari- A Quick Overview
This trip will be a perfect combination of Arabic culture and a spectacular display of nature, as well as thrills and excitement. We guarantee that this trip will be the most enlightening and revitalizing experience of your life.
There were many fun activities planned for all of you to enjoy, such as camel trekking, sand boarding, quad bike rides, and an exciting option for car racing fans. You can also try your hand at adventurous 4X4 dune bashing. This list does not stop there; there are numerous other options, such as henna tattooing, photography, and when the sun goes down, mesmerizing performances of belly dance and tanoura. Here, you will have one of the most memorable bonfires and BBQ experiences of your life.
Even if you've been camping before, camping in the desert is unlike anything you've experienced before. It's an entirely different experience, and the most amazing part is that you'll wake up to one of the best sunrise views in the world. Never pass up an opportunity to explore the desert wilderness with us.
What is included in this overnight desert safari in Dubai?
Pick up and drop off from hotels in Dubai
Food, soft drinks, and alcoholic beverages
Safari guide
Shisha
Arabic-style buffet dinner
Things to do in Overnight Desert Safari
Do you want to spend an ideal night with your loved one, with a perfect location, a pleasant view, and an exciting experience? Shouldn't there be something said about an Overnight Desert Safari Tour in Dubai? Fabulous! You simply plan it and we will almost certainly make it memorable for you! Let us go over some of the important details about these overnight desert safari trips.
1. Dune Bashing Overnight Desert Safari
One of the most appealing features of a desert safari is dune bashing. People, especially children enjoy riding 44 vehicles at high speeds over uneven dunes to experience a completely different side of thrill and excitement.
2. Amazing Entertainment Performances
At the camping site, various entertainment performances are organized to make your night more exciting and colorful. Visitors can see popular Arabic dance forms such as belly dance and Tanura. Other performances include the captivating fire dance performance, which is full of dangerous moves and will take your breath away. Tanura performances feature dancers wearing colorful skirts and performing swirling and spinning movements.
3. Mesmerizing Sunset View
Sunsets are always beautiful, but the sunset at desert safari will take your breath away with its beauty and charm. Even hours after sunset, your heart will feel trapped between the incredibly beautiful orange-red and yellow rays of the sun. And if you plan on having a picnic while watching the sunset, you can easily understand what immense pleasure means.
4. Camel Rides and Sand Boarding
Nothing captures the essence of a trip to Dubai like a camel ride. If you want a unique experience, you can ride the healthiest camels and sail through the sand, or you can try sand boarding.
5. Henna Painting
Henna painting is a wonderful traditional activity for both women and children. Our overnight desert safari packages include henna painting for you and your children, giving you a unique experience.
6. Dance Floor and Music System
Nothing beats music and dancing to make an overnight stay more enjoyable, so we have a dance floor and a powerful music system ready to make your night stay unforgettable.
7. Buffet Dinner and BBQ
Under the shining and twinkling stars in the tranquil and mesmerizing atmosphere of the desert, you can have one of the best dining experiences of your life. Two things about Arabs are well-known: their hospitality and their cuisines and on a desert safari trip, you can experience both. The BBQ experience you will have here will not compare to the BBQ of the world's best restaurants because no other restaurant will be able to create a fantastic desert environment and feel.
Things to note
· What to Wear:
Lightweight summer clothing is appropriate for most of the year but sweaters or jackets may be required in the winter, particularly in the evenings.
· What to Bring:
Hats and sunglasses Both men and women must dress conservatively in non-transparent clothing with long sleeves (wrist length), long skirts (ankle length), or trousers.
INCLUSIONS
Transfers will be available if selected
Photography to capture amazing sunset sights
Camel riding will be included
Photography in Arabic costumes
Quad bike (If demanded)
Henna designing
Yummy BBQ (Vegetarian, Non-Vegetarian)
Performances of Tanura artists
Night tea or coffee
Separate toilets for males and female
Breakfast, tea, or coffee
IMPORTANT TO KNOW
Pregnant women and guests with backache will not be recommended for dune bashing
There will be additional charges if the pick-up areas are other than Dubai hotels and residencies
Sharing transfer will be available from Deira, Bur Dubai, Sheikh Zayed upto marina
BOOKING POLICY
Free entry for children under 2 years of age
Adult rates for children above 10 years of age
Refund payments will be clear in 7 business days
Complete charges will be applied if cancellation made within 24 hours of your tour departure time